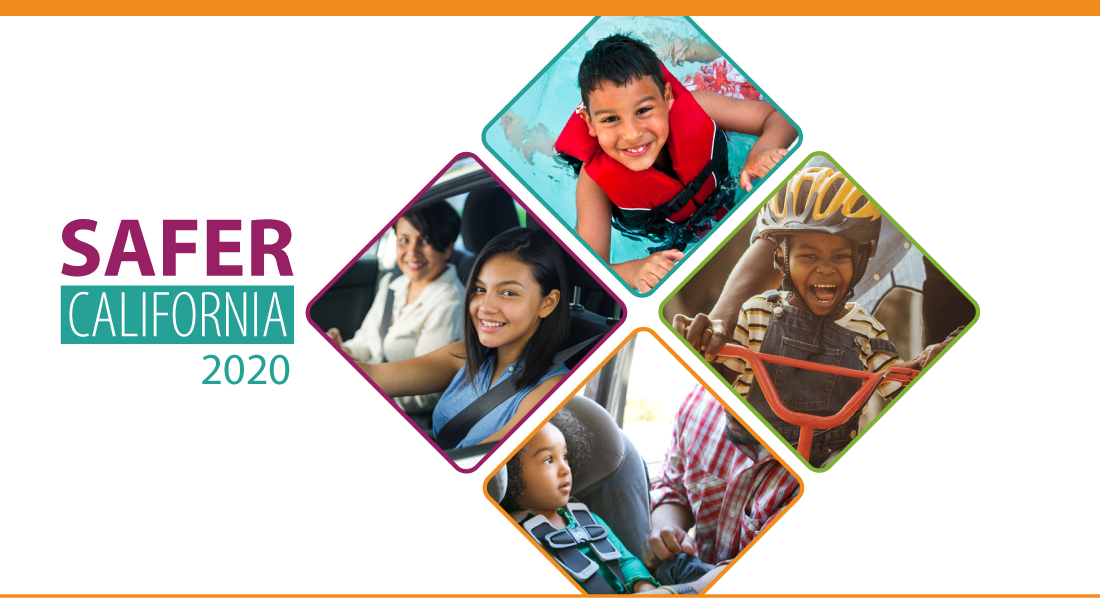 Sponsor & Vendor Opportunities Are Open for the
Safer California Unintentional Injury Virtual Conference
Individual and group registration
The Safer California Unintentional Injury Prevention Conference is scheduled for November 17th and 18th, 2020.
What is this conference about and why should safety product businesses and training programs want to sponsor or be a vendor?
This year's virtual conference is co-sponsored by the CA Coalition for Children's Safety and Health (CCCSH) and the CA Department of Public Health, Injury and Violence Prevention Branch (CDPH IVPB) with funding from Kids' Plates and, in part, the Preventive Health and Health Services Block Grant.
What are the three primary purposes of this conference?
To increase participants' knowledge of the latest evidence based best practices to prevent unintentional injuries

To help strengthen existing and emerging local childhood and youth focused unintentional injury prevention coalitions and programs

To increase networking opportunities for unintentional injury prevention coalitions and programs across the state.
The conference will bring together more than 400 local unintentional injury coalition, program, and stakeholder leaders from across the state. Participating as a conference sponsor & vendor puts your product, business, and organization in front of all attendees and decision makers.  
 
Being a participant in the 2020 Safer California Conference makes you part of the community of local, regional, and statewide unintentional injury prevention programs. Everyone attending the Safer California Conference will continue to work together after the conference is over as part of the statewide California Unintentional Injury Prevention Strategic Plan Project – "Safer California Prevention Project." You can be part of that continued safety effort across the state.
What topics will the Safer California conference cover? (Click to see agenda)
The Safer California Conference topics range from the leading causes of unintentional injury suffered by California's children and youth: Vehicle, pedestrian, bicycle crashes; Drowning; Poisoning; Infant sleep suffocation; Burns; Falls; Kids left in cars; Driveway and parking lot backovers; And, how prevention programs are addressing the pandemic and other natural disasters, racism, inequity of resources, younger populations' perspectives and distrust, and much more.
Special thanks to the many organizations represented in the planning of the conference:
CA Coalition for Children's Safety and Health, CA Department of Public Health Injury and Violence Prevention Branch, And, Advocates for Highway and Auto Safety, Alameda County Health Department Family Health Services, Alisa Ann Ruch Burn Foundation, American Academy of Pediatrics CA, CA Drowning Prevention Foundation, CA Paramedic Foundation, CA Poison Control Center, CA SADD, CA SIDS Advisory Council, Center for Child Abuse Prevention, Children's Advocacy Institute USD School of Law, Contra Costa County Health Services, First 5 Kern, Impact Teen Drivers, Jasper Ray Foundation, KidsAndCars, Lucile Packard Children's Hospital Stanford, Nora Rose Hines Foundation, Orange County Injury Prevention Program, Rady Children's Hospital San Diego, Safer3 Water Safety, Safe Kids California, Safe Kids Greater Sacramento, Safe Kids Inland Empire, Safe Kids San Diego, Safe Kids Stanislaus, Safe Moves, SafetyBeltSafe U.S.A., Safety Center Sacramento, Sierra-Sacramento Partnership, Shriner's Hospital Sacramento, Stanford Trauma Center, UCSF Benioff Children's Hospital Oakland, UC Davis Health Trauma Prevention and Outreach, and Valley Children's Hospital, Valley Children's Healthcare
What are the benefits of being a conference sponsor or vendor? *
Your logo, website contact information, and product statement on the official conference website, and scrolls in front of all participants in the conference

A virtual ad in the sponsor and vendor exhibitor section of the on-line conference syllabus

All sponsors and vendors will be highlighted during break times at the conference, before the conference begins each day and at the end of each day

The entire conference will be recorded to allow attendees from across the state to re-review information on the official conference website, including sponsor and vendor information

You will receive an official certificate indicating you were an approved vendor or sponsor you can use to share with others you are trying to help promote safety.
 
*Notice—All vendors will be vetted and approved by the appropriate planning team most knowledgeable about the unintentional injury issue area your product or organization is associated with.
 
To become a conference sponsor or vendor (Click here).
 
Safer California 2020 sponsor and vendor levels and benefits:
By being a sponsor or vendor of the Safer California Unintentional Injury Prevention Virtual Conference, you show how important California's children and youth are to your organization.
 
Sponsor and vendor payments are made through the conference host California Coalition for Children's Safety and Health (CCCSH) a 501(c)(3) non-profit and is tax deductible.
[Note – Sponsors are not required to take any of these offered benefits]
Sponsor and vendor contribution payment information can be found by (Click Here)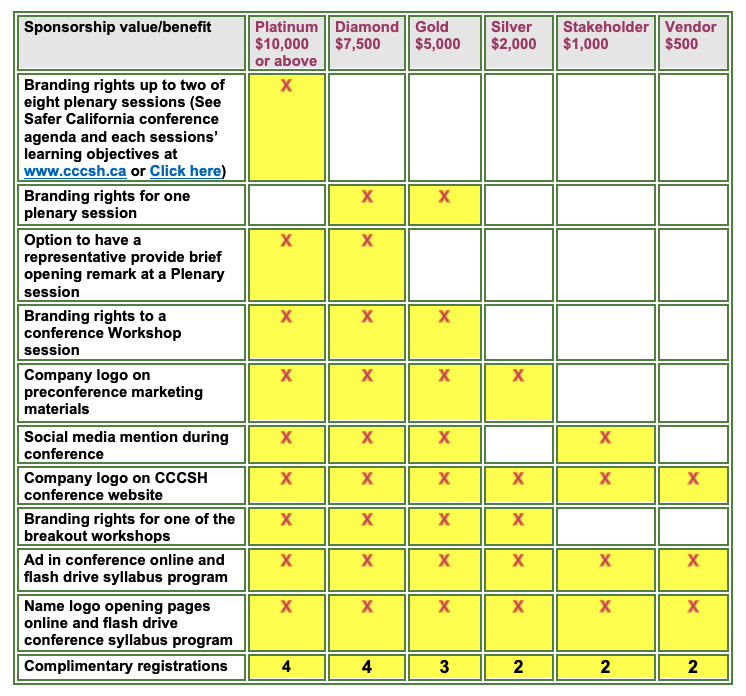 To make your Sponsor or Vendor contribution payment (Click here) or go to the CCCSH web site's Safer California drop down menu (www.cccsh.ca)
What will the audience look like at the Safer California Conference?
People from across
the state working on:
Traffic related safety (Vehicle, Bicycle and Pedestrian)

Teen and youth driver safety

Child passenger safety

Poison Prevention

Suffocation prevention

Safe sleep infant/baby sleep

Burns prevention

Falls prevention (window falls and in-home safety)

Drowning prevention and water safety (pools, in-home and open bodies of water)

Sports concussion, heat stroke and cardiac arrest prevention

Suicide prevention

Non-Traffic vehicle related (Kids left in vehicles, driveway and parking lot backovers and frontovers);
Leaders, staff, and decision makers from:
Local safety coalition and program leaders, staff, and volunteers

Parents

Teens and Youth engaged with Impact Teen Drivers, Friday Night Live, CA SADD and other youth focused organizations

Affected families (families who have lost a child or youth to unintentional injury)

First responders

Emergency Medical Services

Public health community

Healthcare providers

Children and trauma hospital representatives and healthcare staff

Children and youth health policy advocates

Health focused foundations' leaders and staff
Public health local and state officials and staff

Traffic safety local and state roadway safety planners

Law enforcement

Children hospital and Trauma Centers - nurses, physicians, and community safety engagement staff

Local government – city, county and park and recreation representatives

Traffic court judges, staff and city/county level attorneys involved in traffic and traffic safety

Researchers involved in unintentional injury prevention

Vendors involved with children and youth safety equipment
If you want to register for the Conference:
Registration will be limited for this conference. Register Now! (Click button below).
Cost to be a vendor exhibitor:
$500 (Click here)
Cost of registration: 
$50

individual registration
After Sept 15, 2020, individual registration is $75


$75 for out of state registrations

Group registrations discount (4 or more registering at one time) receive $5 off each individual registration
Cost for those in financial need:
There will be a scholarship program. Inquire about a registration scholarship by emailing Catherine Barankin or Steve Barrow at cbarankin@aol.com.
Can I be involved in the planning or as a volunteer for the conference?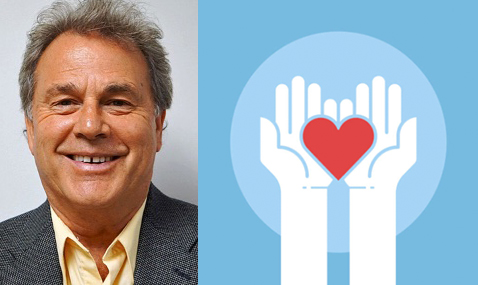 There are 16 working subcommittees/planning teams helping to plan the various topics, workshops, plenary sessions, presenters, marketing, and sponsor/vendor outreach. If you are interested in being involved in the planning or want to volunteer for the conference email and Steve will get you to the right team. scbarrow88@gmail.com
Questions about the Safer California UI Prevention Conference or the CA Unintentional Injury Prevention Strategic Plan Project can be emailed to Catherine Barankin or Steve Barrow at CCCSH at cbarankin@aol.com or scbarrow88@gmail.com or you can email Kate Bernacki, Coordinator CDPH Injury and Violence Prevention Branch at Kate.Bernacki@cdph.ca.gov.
Steve Barrow
Co-Chair CA Unintentional Injury Prevention Strategic Plan Project
Technical Assistance Project Director, CDPH Kids Plates Coalition Development Program
Program Director, CA Coalition for Children's Safety and Health (CCCSH)